Home
---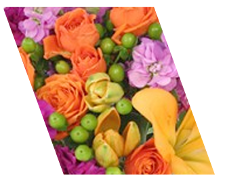 Custom Flower Design
Let us create a custom flower arrangement for you.
Order within 53 minutes for Same Day Delivery!
Buy Now
About J and J Flowers
We are J and J Flowers and we are a real local florist in Pembroke Pines, FL. We provide flower delivery to the surrounding areas of Coconut Creek, Coral Springs, Dania, Deerfield Beach, Fort Lauderdale, Hallandale, Hialeah, Hollywood, Margate, Miami, Weston, Miami Gardens, North Miami Beach, Opa locka, Pembroke Pines, Plantation, and Pompano Beach. We have a wide range of selection of plants and gift baskets for all occasions. Send flowers in Pembroke Pines and surrounding areas.
We offer same day delivery of fresh cut flowers; you can also accompany your flower arrangements with Mylar balloons, delicious chocolates, preserved roses, jewelry and more. Our customers love us because we are a flower shop and a gift shop.
We specialize in wedding flowers, birthday flowers, anniversary flowers, corporate event flowers, funeral flowers, cemetery flowers, cremation flowers, gift baskets, sympathy flowers, get well flowers, standing sprays, casket flowers, new baby flowers, baptism flowers, bar mitzvah flowers, but we also have everyday flowers if you just want something to decorate your home or just because.
Ordering flowers online is easy with our website and our flower shop prides itself in creating gorgeous floral arrangements using only the freshest flowers sourced from the best flower growers in the world. We even carry hard to find seasonal flowers like ranunculus, dahlias that can be perfect for weddings. Of course, we have all types of flowers like your everyday dozen sunflowers, hydrangea, too. Even if you're not looking for your traditional bouquets, we also carry plants, orchids, lilies.
Surprise your loved ones with a unique design and fresh fragrant flowers for any special occasion. Send flowers right from our online catalog to make sure you send the right gift and/or the right bouquet to surprise someone special. Whether it is a get well flower gift basket, Mother's Day flowers, seasonal centerpiece for the holidays or something that says "I love you" J and J flowers is the leading florist in Pembroke Pines, FL and will make sure to send quality flowers in a stunning arrangement.
Local Hospitals, Clinics, Well and Medical Centers
Hospitals we deliver to: Extended Life Wellness Center, Progressive Medical Center, Safecare Medical Center - Primary Care Physician Office, Fox MedicaI Centers - Hialeah, Belen Medical Centers, Excellent Home Care Givers, GONZALEZ'S MEDICAL CENTER, Healing Touch C & C Inc, Kidscare Therapy Center, Inc., La Colonia Medical Center - Hialeah, Miami Vascular Center, Pasteur Medical Center, RiteCare Urgent Care Medical Center, Southern Winds Hospital, Hialeah Hospital, Leon Medical Center, MBMG Medical Centers - Hialeah, CanoHealth Miami Gardens, Nicklaus Children's Outpatient Care Center, Chen Neighborhood Medical Center, Wellmax Medical Center, Division Of Cardiology At Mount Sinai Medical Center Hialeah, Leon Medical Centers - West Hialeah, Palmetto General Hospital, Pediatric Provider-South Fl, Westland Medical Center - Best Value Healthcare, Family Medical Centre, Hollywood Career Institute, LLC, Kindred Hospital South Florida - Hollywood, The Schottenstein Center: Julie Schottenstein, DPM, Biscayne Plaza Surgery Center, DaVita South Broward Artificial Kidney Center, Hollywood Bariatrics, Joe Dimaggio Childrens Hospital Department Of Orthopaedics Surgery, Joe DiMaggio Children's Hospital, Memorial Cardiac & Vascular Institute, Memorial Healthcare System, Memorial Medical Office Centre, Memorial Regional Hospital, Memorial Regional Hospital Outpatient Center, Memorial Regional Hospital South, Physicians Imaging Center of Florida, ScribeAmerica, Cano Health, Memorial Hospital Pembroke, EliteHealth Medical Centers, Memorial Manor, MediLife Center, MirVision Eyecare, Primary Care Offices at Miramar, Primary Care Offices at Pembroke Pines, Memorial Hospital West, Memorial West Cancer Institute, Children's Medical Center, Joe Dimaggio Childrens Hospital, Memorial Hospital Miramar, Jackson Crisis Center, Doctor's Medical Center, Trulieve - Miami Gardens, DaVita Miami Gardens Dialysis, Optimal Health Medical Center, DaVita Pompano Beach Artificial Kidney Center, Lighthouse Medical Center, Pompano Adult Primary Care Center, Heart and Vascular Institute, Northwest Center for Integrative Medicine and Rehabilitation, Northwest Medical Center, Personal Care Pediatrics, Broward Health North, East Pompano Pediatric Corporation, Holy Cross Hospital Physician, North Broward Hospital, Jackson West, Hyperbaric Therapy Of Florida, Illumina Medical Centers, Leon Medical Centers - Flagler, Downtown Medical Center, Select Specialty Hospital - Miami, Catholic Health, Fox MedicaI Centers - Downtown, Qs-Health Medical Solutions, New Wave Medical, NuLife Institute, Department of Neurological Surgery, Jackson Behavioral Health Hospital, Roxcy Bolton Rape Treatment Center, The Miami Project to Cure Paralysis, UHealth Fertility Center, UM, University of Miami Hospital, Pure Restorations - Skin Care Medical Spa, UHealth Mailman Center for Child Development, Tamayo, EliteHealth Medical Center, Hyperhidrosis USA, Mount Sinai Urology, North Shore Medical Center Miami, Coverall Medical Center, DaVita Doral Kidney Center, Ocean Blue Medical Research Center, Inc, Doctor's Medical Centers, Harbor Bay Medical Center, Sanitas Medical Center - Doral, Healthy Kidz Pediatrics, Hospital childres doral, Nicklaus Children's Doral Outpatient Center, California Club Medical Center Llc, Aventura Hospital & Medical Center, Aventura Pediatric Center, Memorial Cancer Institute, Mount Sinai Medical Center Aventura, Soffer Health Institute Aventura, HCA East Florida Division, Kindred Hospital South Florida - Ft. Lauderdale, Your Fat Loss Coach, Vanguard Plastic Surgery, Virility, Inc., Broward Health Imperial Point, Holy Cross Hospital, Cora E. Braynon Family Health Center, William Dandy Middle School Health Center, Florida Medical Center, Broward Health Medical Center, Emergency Care at Plantation General Hospital, Plantation General Hospital, Senior Medical Associates, South Florida Men's Health, Cleveland Clinic Florida, DaVita Weston Dialysis Center, Nicklaus Children's Dan Marino Outpatient Center, Ventre Medical Associates, Deerfield Beach Health Center, Helix Urgent Care - Deerfield Beach
Local Cemeteries, Funeral Homes, and Churches
Animal Cremations, Clark and Norris Home of Funerals, Dania City Cemetery, Eric S George Funeral Home Dana Inc, National Cremation Society, Direct Cremation, Greaver Robert Funeral Home, Hallandale Memorial Chapel, Infinite Centralized Embombing, Keystone Development Group, Restview Memorial Mortuary Inc, Stevens E A Funeral Home, Borinquen Funeral Homes, Caballero, Felipe LFD, Cremation Society of South Florida, Dignity Memorial, Funeraria Memorial Plan, Funeraria Memorial Plan San José, Lakeside Memorial Park, Memorial Plan Embalming, Our Lady Of Mercy Catholic Cemetery, Auxiliadora Funeral Home, Cementerios Woodlawn, Garden Of The Palms, Hall Ferguson Hewitt Mortuary, Lowe - Hanks Funeral Home, Miami Memorial Funeral Home, Range Funeral Homes, Range, M Athalie Mrs, Range, N Patrick Funeral Director, Rivero Caballero Funeral Home, Rivero Funeral Homes/Miami Chapel, Sharp, Charles F, Vior Funeral Home, Funeraria Y Crematorio van Orsdel, Pax Villa, Bennett Funeral Home, Funeraria Vista, National Funeral Homes, Gardens Office, de Sanchez Funeral Supply, Manker Funeral Home, Manker, William E, Brooks Cremation & Funeral Service, Fred Hunter's Funeral Homes, Funeral Funding, Funeral Funding Center Inc, Levitt Weinstein, Levitt-Weinstein Memorial Chpl, Memorial Gardens, National Mortuary Provider, Rogers Funeral Home, A Cedar Crest Funeral Home, Cremation Services International, Eric S George Funeral Home, Hollywood Memorial Chapel, Landmark Funeral Home, National Memorial Funeral Chapel, Panciera Memorial Home, Panciera-Van Orsdel Funeral, Robert Greaver Funeral Home, The Memorial Store, E A Stevens Funeral Home, Forest Lawn Memorial Gardens, Funeraria de Hunter, Guiding Light Cremations, Our Lady Queen of Heaven Cemetery, Rahming Enterprises Inc, AAA Cremation Emporium, Cremation by Scarano, Cremation Society of America, Direct Cremation, Economical Alternative Funerals & Cremations By Scarano Joseph A/Pines Memorial Chapel, Fred Hunters Funeral Homes, Funeral Funding Ctr, Funeral Funding Ctr Inc, Hollywood Memorial Gardens, International Funerals & Transfers By Scarano Joseph A Funeral Homes, Joseph A Scanaro Funeral Home, Joseph A Scarano Stirling Memorial Chapel, Levitt Weinstein, NorthStar Memorial Group - Miami Beach, Quality Funeral & Cremation Care by Scarano Joseph, Restview Memorial Mortuary Inc, Robert Greaver Memorial Chapel, Sinai Memorial, Stirling Memorial Chapel, Worldwide Shipping Service By Scarano, Alternative Funeral, Boyd Panciera Family Funeral Care, Corner Stone Svc-South Fl Inc, Poitier & Assoc Inc, Spence Funeral Home, Forevergreen International Inc., Rightstar Systems, Blount & Curry Cremation Services, Maria Leik Np Review Svc, Rahming Jim, Alfonso M Richardson Funeral Services Inc, Allen & Shaw Cremations, Eh Zion Funeral Home, Florida Memorial, Hadley's Funeral Home, Johnson Foster Funeral Home, Lawson's Mortuary, Marcel's Cremations, Spence Funeral Home, The Neptune Society, Fred Hunters Funeral Home, Funeraria Nacional Latina, The Neptune Society, Affordable memorials, llc, Cremation Society of America, Dignity, Gulfstream Sales, SCI Funeral Svc of Florida, Westview Community Cemetery, Broward Removal Service Inc, Emmanuel Funeral Homes, Kraeer Funeral Home and Cremation Center, Kraeer Funeral Homes & Cremation Center, Kraeer Memorials, Kraeer Funeral Home and Cremation Center, Mark Weissman, Philip Weinstein Funeral Director, Shalom Memorial Chapel, Shalom Memorial Chapels, Brooks Cremations Incorporated, Forest Lawn Funeral Home, Forest Lawn Memorial Gardens, Forest Lawn Memorial Gardens North, Kraeer Funeral Home and Cremation Center, Lawn Forest, Pernel Weekly, 595 Cremation, Funeral Assist, Bailey Memorial Gardens, Boakes Alex, Cemetery Blind Entertainment, Pre-Need Office Catholic Cmtrs, Queen Of Heaven Cemetery, Star Of David Cemetery Funeral Home Mausoleum, Star of David Memorial Gardens Cemetery and Funeral Chapel, Elijah Bell Funeral Services, Kraeer Funeral Home and Cremation Center, Sci Funeral Cemetery, Levitt Weinstein Boca, Nadine A Smellie Pa, Shapiro, Darren, Empire Funeral Supply, Louis St Laurent Pa, Funeral Store Inc, 1 800 Cremations, 1 Price Funerals, Auxiliadora Funeraria Nacional, National Funeral Homes, Auxiliadora Funeria Nacional, Borinquen Funeraria, Caricom Funeral Parlour, Cathay Funeral Home, Cem Management Services Inc, Cremation Express, Cremations By Fla Mortuary, Cremations By Florida Cremation Burial & Shipping Society Inc, Cubana Funeraria, Discount Casket, Flynn Thomas and Son of New Jersey Funrl Dir, Funeral Depot and Casket Store, Funeraria Catolica, Funeraria Yoruba, Haiti Funebre, Hialeah Funeraria, Hilbert Mohabir Shore Enterprises, National Funeral Home, Richardt Fred /Funrl Dir, South Florida Cremations Inc, Levitt-Weinstein Memorial Chapels, Mount Nebo/Miami Memorial Gardens, All Funeral Svc, Borinquen Funeral Homes, Cem Management Inc, Funeral Depot And Casket Store, Hilbert Mohabir Enterprise, Pequena Havana Funeral Home, Florida Mortuary, Alligood Carroll, Unity Develop, M Athalie Range Chapel, Netzah Lc, Range Funeral Homes, Evans-Smith Ian, Florida Mortuary, Hirsch Louis & Sons Funeral Hm, Cremation Emporium, Mortuary Care Facility, Plummer J L, U S Chemical & Funeral Supplies Inc, Lithgow Bennett Funeral Home, Melanieelisecom Inc, Monique & Loriston Comm Fnrl, Forest Park Chapel, Leviev Boymelgreen Vitri, Riverside Gordon Memorial Chapels, Rubin Zilbert Funeral Chapels, Jewish Marriages & Funerals Traditional, Blasberg, Ira M, Blasberg, Larrie S, Blasberg, Michael C, Jewish Funerals By Blasberg Funeral Chapel, Rubin Zilbert Funeral Chapels, Zion Memorial Chapel, Bagnasco Enterprise Corp, Golden Gate of Orlando, Hadley Davis Funeral Home MLK BLVD, Jackson Dwight Lfunrl Dir, Lincoln Memorial Park, Manker, William E, Memorial Plan Cemeteries, Pierson Enterprises, Range M Athalie, Eason & Benton Funeral Home, Faith Funeral Home and Services, Friendship Funeral Home, Hadley Davis Funeral Home, Pilgrim Rest Funeral Home, Royal Palm Funeral Service, 189 Investment, Biscayne Memorial Chapel, Joseph A Scarano Funeral Home, Levitt Weinstein Memorial Chapels & Cemeteries, Albury Ronald E Funrl Dir, Benoit Williams Funeral Services, Cofer Kolski Combs Funeral Home and Cremation Center, Combs Kolski-Bess Funeral Home, Douce Funeral Transport Services, Funeraria Memorial Plan Lithgow Bennett Philbrick, Mason Funeral Home, Monique & Loriston Community Funeral Home Inc, Funeraria Del Lago, Quality Removal Inc, Memorial Merchandise & Services Center, Emmanuel Funeral Hall, Memorial Plan Dade Memorial Park, Sci, Wilcor Auto Repairs And Tires, Casket Store, Greater Miami Jewish Cemetery, Mount Sinai Memorial Park Cemetery, Neptune Society, Catholic Cemeteries, Pet Heaven Memorial Park, Astrid Matthysse, Navarro Funeral Home, Bourgie Urgel Ltd, Eternal Light Funeral Drctrs, Funeria Joseph A Scarano, Ginsberg, Mark P, Glass, Gary, Gratch, Mandel, Hartman-Miller Menorah Chapels, King Herbert, Kirschenbaum Bros Inc, Levine Briss Funeral Home, Levine, Briss, Levitt Funeral Chapel, Levitt Weinstein N Miami Beach, Levitt-Weinstein Eternal Light Funeral Service Center, Malinow, Robert, Mandel, Manny, Menorah Monuments, Newman Funeral Home, Newman, Edward T Funrl Dir, Newman, Terry Mrs, Piser Weinstein Menorah Chapels, Riverside Gordan Funeral Chape, Riverside Gordon Memorial Chapels, Scholssberg Goldman & Solomon Memorial Chapels, Stanetsky Memorial Chapels, Weinstein, Hershey, Weinstein, Joel William, Weisberg Jeffrey Funeral Director, Weissman, Mark, Westminster Chapels, Cremation Society of South, Lithgow Bennett Funeral Home, Memorial Plan Southern Memorial Park, Monique & Loriston Community Funeral Home Inc, Philbrick & Lithgow Funeral, Avatar Cremation Services, Fairchlld Funeral Home & Creamatory, Falowski Steve, Funeral and Crematon Holding, Joseph A Scarano Funeral Homes, King Design & Development, Kreitzman Allan L Unrl Dir, Lauderdale Memorial Park, Sinai Chapels Of New York, Star of David Cemetary, Cremation Society of America, Handevidt Roger /Ofc, North American Cremation Society, Kalis Funeral Home, Weinstein Chapels, American Burial & Cremation Center, Beth Israel Memorial Chapel, Direct Cremation Society F, North American Cremation Scty, Case Holding, Kraeer Memorials, Kraeer-Fairchild Funeral Home and Cremation Center, Morris I J of Florida Inc, Ocean Paradise Realty Corp, City of Ft Lauderdale Cemetery, Flite-Rite Co, Florida Family Funeral Home Inc, Guaranteed Security Plan, Jennings Funeral Homes, Levitt Commercial, Neptune Society, Neptune Society/, Skyway Memorial Gardens Inc, Vista Memorial Gdn & Funeral, Weinstein Brothers Inc Of Chicago, Weinstein Laure Of Levitt Weinstein, All Care Funeral & Cremation Consultants, Florida Family Funeral Home, Forest Lawn Memorial Gardens Central, Rahming Poitier Funeral Home, Roy Mizell & Kurtz Funeral Home, Tri County Funeral Services, Woodlawn Cemetery, Atlantis Memorial Reef, Cremation Services Internation, Forest Lawn Memorial Gardens, McWhite's Funeral Home, Menorah Monuments, Service Corporation International, Temple Beth El Memorial Gardens, Cremation Memorial Center for Broward, Funeraria Broward Inc, Quality Care Cremations, Sunset Memorial Gardens, Vista Memorial Gardens And Funeral Home, AAA Alpha & Omega Cremation, Florida Family Funeral Hm, Lauderdale Memorial Park, Fred Hunter's Memorial Services, Quiet Squaw Charters, Catholic Cemeteries, Cemetery Resources Of South Florida, Forest Lawn Funeral Home, Forest Lawn Memorial Gardens, Funeraria Del Lago, Kraeer Calclnator & Crematory, Kraeer Funeral Home, Paradise Cremation & Funeral Services, Pre-Need Office Catholic Cmtrs, Ralph, Thomas M, AAA Baird-Case Broward Mem, BAIRD-CASE Funeral Home, Baird-Case Jordan-Fannin Funeral Homes, Dane M Esdelle & Associates, Eden's Cremation Society, Elijah Bell's Funeral Services, Forest Lawn Funeral Home-South, Kraeer Mason Funeral Hm, Kraeer/Mason Funeral Home and Cremation Center, Manors Of Iverrary, Mason Funeral Hm & Cremation, Riverside Gordon Memorial, Riverside -Menorah Memorial Chapel, Sc I, T Micahel Evans Funeral Director, Grace Under Pressure Consulting, LLC, Cremati Ibia, Jewish Burial Society-America, Ralph, Thomas M, Sci, Shalom Memorial Chapels, Weinstein Laure Of Levitt Weinstein, Weiss Memorial Chapel, Caring Cremations, Rdp Of South Florida, Fred Hunter Funeral Homes Crematories Cemeteries, Jewish Burial Society of America, MCC Jing Tang, Weinstein Philip M Funeral Director, Kertesz, Serenity Removals & Svc, Funeral Funding Center, Menorah Monuments, Wujek Joanna, I Remember Them, Kaplan Jonathan S Funeral Director, Menorah Gardens & Funeral Chapels, Menorah Gardens Dsl, Sci Funeral Services of Fl, AAA Alpha & Omega Cremation, Funeral Industry Consultants, Gordan S Bernstein Pa, Legacy Holdings, AAA Alpha and Omega Creamation Center, Covenant Mortuary Inc, Deerfield Beach Cemetery Ofc, Felicia Poitier, Funeral Consumers Alliance Of Se Fl, Kraeer Calcinator & Crematory, Kraeer Funeral Hm & Cremation, Kraeer-Becker Funeral Home and Cremation Center, Rahming Poitier Funeral Home, Sci, Sylvia Poitier Business Skill Center, AAA Alpha & Omega Cremation, Glass Gary A Funrl Dir, Menorah Monuments, Piser Menorah Chapels, Riverside Gordon Memorial Chapels, Weinstein Hershey Funrl Dir, Weinstein Philip M, Weinstein Philip M Funeral Director, Weissman, Mark Funrl Dir
Neighborhoods, cities, Zip codes
33004, 33008, 33009, 33010, 33012, 33013, 33014, 33015, 33016, 33018, 33019, 33020, 33021, 33022, 33023, 33024, 33025, 33026, 33027, 33028, 33029, 33054, 33055, 33056, 33060, 33061, 33062, 33063, 33064, 33065, 33066, 33067, 33068, 33069, 33071, 33072, 33073, 33074, 33075, 33076, 33077, 33081, 33082, 33083, 33084, 33093, 33097, 33122, 33125, 33126, 33127, 33128, 33129, 33130, 33131, 33132, 33136, 33137, 33138, 33139, 33140, 33141, 33142, 33147, 33150, 33154, 33160, 33161, 33162, 33166, 33167, 33168, 33169, 33172, 33178, 33179, 33180, 33181, 33182, 33192, 33301, 33302, 33303, 33304, 33305, 33306, 33307, 33308, 33309, 33310, 33311, 33312, 33313, 33314, 33315, 33316, 33317, 33318, 33319, 33320, 33321, 33322, 33323, 33324, 33325, 33326, 33327, 33328, 33329, 33330, 33331, 33332, 33334, 33335, 33336, 33337, 33338, 33340, 33345, 33346, 33348, 33349, 33351, 33355, 33359, 33388, 33394, 33441, 33442